Compulsory identification and registration for dogs (I&R)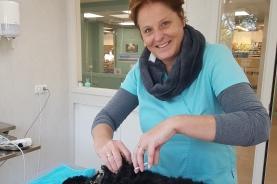 Not everyone is allowed to microchip an animal. A chip may be applied by a veterinarian or other professionally qualified person.

A microchip is actually a transponder; an elongated tube of 8-12mm in length, about the size of a rice grain, made of synthetic material or bioglass. The tube contains an antenna (reel) and a chip with a unique 15-digit code, hence the name 'microchip'. The transponders all comply with ISO-standards, so they can be read out worldwide. The chip itself does not contain name or address details. Therefore, it is important to have the chip registered at all times. Without registration, microchipping is useless.

The chip is applied between the shoulder blades using an injection needle. The chip becomes encapsulated, ensuring it remains in place. The feeling an animal gets is the same as with a normal injection. 
All information, and the chip itself, is checked both before and after chipping. The vet can register the information for you. You can change these details and indicate any preferences. You decide which details are visible when the chip is read out.

Vets, animal shelters, the animal ambulance, police, etc all use a reading device to retrieve the chip number once they have found a pet. This device provides the chip with energy, enabling it to send back the code. This means there is neither a battery inside the chip nor a GPS receiver for determining location. The chip lasts a lifetime.