Change your pet's data for free
You decide which of your details are visible when an aid agency reads your pet's chip, such as your telephone number so that you can be reached immediately if your missing pet is found. Implementing changes is completely at PetBase free.
To change the details of your pet, you can search for your pet via the bar below. You do this by means of the 15-digit chip number that is linked to your pet via a registration with PetBase. After finding your pet, you can easily change all data via the 'change data' button.
Adjusting your pet's details: what you can do in your account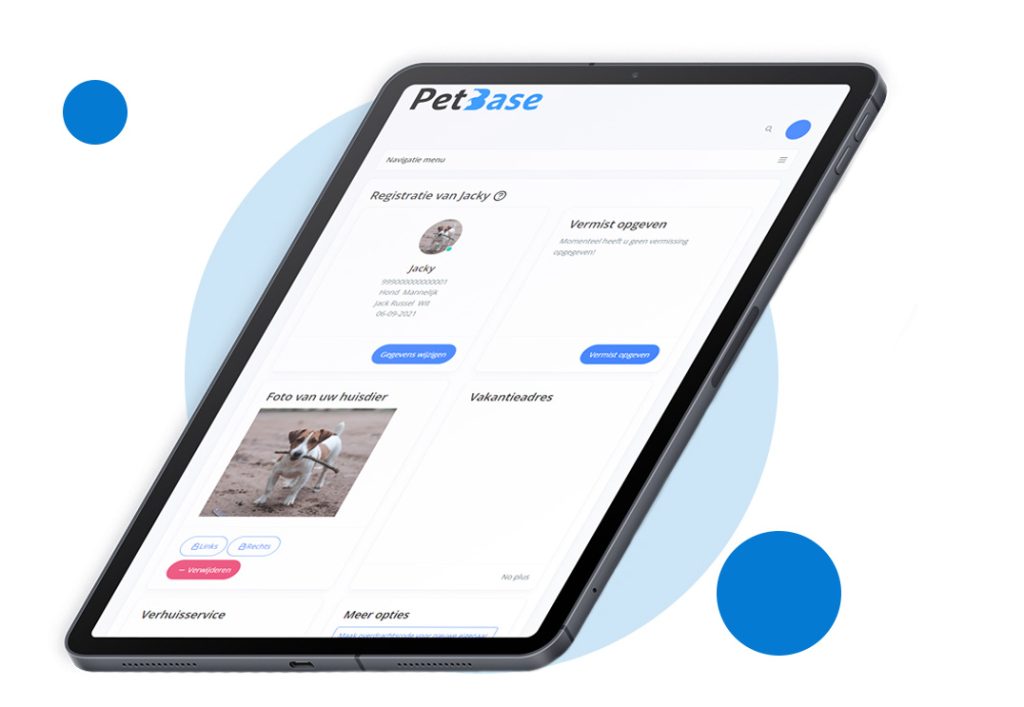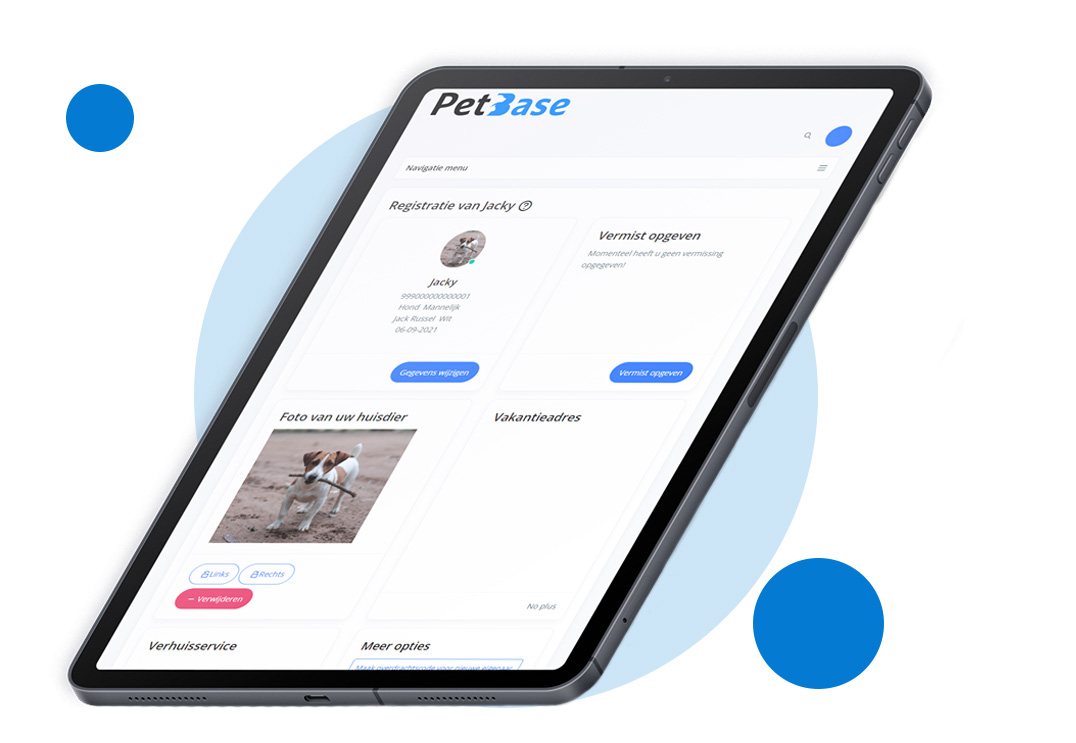 New owner from € 7.50 for a lifetime registration.
You are the new owner and want to name your pet. If you don't have an account with PetBase yet, you can create one via my.petbase.eu een account aan. Login in op de my.petbase.eu portal en klik op de knop 'Dier toevoegen' (links in het menu).  Vanaf € 7,50 heb je als eigenaar een levenslange dierregistratie bij PetBase en voldoet u aan alle gestelde wettelijke regels. Geen verborgen kosten of jaarabonnement en alles veilig geregistreerd. Na de betaling staat jouw huisdier gelijk op je naam. 
Report missing persons and deaths
It is a sad event when a pet goes missing or dies in the family. A pet is often part of the family and loved.
Missing
It can happen to anyone, your pet won't come home in the evening. You start to wonder where he is but you don't know. Finding him can itself be very difficult. Fortunately, more than 77% of all chipped cats return home quickly! To get him home faster, you have to follow a few steps. Read this via the button below.
Report death
Although it is sad, we would like to ask you to deregister your deceased pet from PetBase. This way you prevent us from sending you an email to check the details of your animal. 
Do you have a my.petbase.eu account then you can go to this website and report a death there. Report it 
of the deceased dog in the Netherlands is a legal obligation will be reported to the I & R system of RVO.
For registrations in PetBase before November 1, 2021, you can report a death by logging in to your persoonlijke pagina en jouw gegevens wijzigen. 
How do I know if I'm in the new or old portal.
Ask for the chip number on the pagefind chip number and click on the login and change button.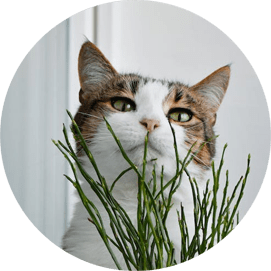 When you move, your pet naturally moves with you. It takes a while for your pet to get used to his/her new home and to find his way back when the animal is outside. It therefore happens more often than one pet missing affected after a move. Make sure you have reported your move to PetBase. With our "Plus package" you can arrange this in advance and indicate your moving date and address.
Of course, this does not only apply to the period after the move. your details must always be up-to-date so that the emergency services can reunite you with your animal. Changes can be made free of charge at PetBase.
Is your question not listed here? Then look further via the following button: