veterinary, chipper, breeder, shelter
Your pet always comes home
veterinary, chipper, breeder, shelter
Your pet always comes home
At PetBase, microchipped dogs, cats and other pets can be registered.
Is your pet missing? Then it is nice if the animal can be reunited with you.
veterinary, chipper, breeder, shelter
Your pet always comes home
veterinary, chipper, breeder, shelter
Your pet always comes home
PetBase is the European animal database for pets with a chip
Register your pet quickly & easily with PetBase
Database designated by the government
Animals can be found all over Europe
For animal owners, breeders, vets and other professionals
You manage your own data
Link photos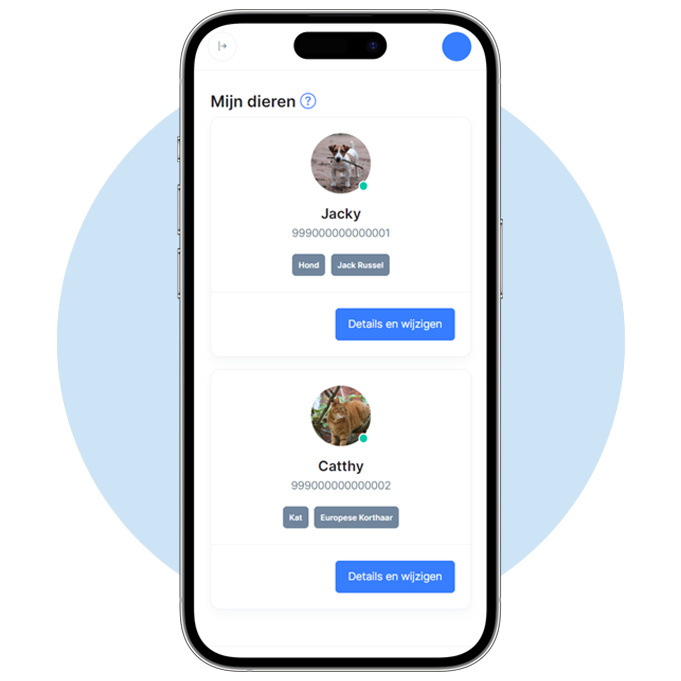 Order all your products easily in our webshop
Looking for high-quality products? Discover our extensive webshop and save time and effort when ordering.
Registering and changing details
Do you want to register your pet? This can be done easily and cheaply at PetBase. You decide which data is visible. Don't forget to change your data for free.
Your data are safe with PetBase
PetBase meets all requirements that apply to the GDPR privacy legislation. Designated authorities can access your data.
PetBase is a government designated database for registering microchipped dogs, cats and many other pets. Because your pet is chipped we can reunite you with your animial if it is found after a missing. Your vet, the shelter of your pet's breeder can take care of the registration for you. Make sure that you enter your details correctly and do not forget to pass on any changes, for example when you move!
Free address change
For private and professional
Brand Independent
One-off costs
News
en gepersonaliseerde penning is niet zomaar een stukje metaal; het is een uniek symbool van betekenis en verbondenheid. Deze gepersonaliseerde penning wordt niet alleen een praktisch identificatiemiddel, maar ook een hartverwarmend sieraad dat de liefde en toewijding aan je trouwe knuffeldier symboliseert.
Read more